iRig Pro Duo Studio Suite
$489.00

$489.00

Save $50
Tax included.
---
---
Everything you need to play, sing and record
All you need to create and record music in GarageBand and other DAWs
Everything you need to record guitars, vocals and other instruments is here, including a professional-grade audio interface, a studio-quality microphone, monitoring headphones, and all the cables and accessories you need. Totally plug-and-play on Mac/PC, iOS and Android, everything works seamlessly with GarageBand® and other popular recording applications. Plus, the bundle also includes all the GarageBand-compatible Mac/PC software plug-ins to take your recordings to the next level; from guitar amplifier and effects and microphone modeling to virtual instruments and high-end studio processors for mixing and mastering.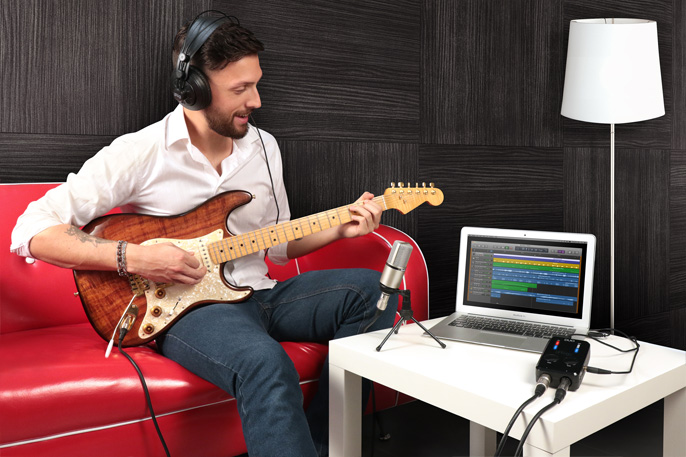 With iRig Pro Duo Studio Suite, it's easy to create multitrack recordings, demos, podcasts, live recordings, and more. And best of all, iRig Pro Duo Studio Suite works with your computer, tablet and your smartphone so you can make brilliant music on any device, anywhere, any time!
---
Included hardware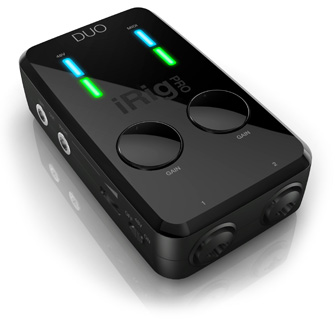 iRig Pro Duo
2 channel audio/MIDI interface for Mac, PC, iOS and Android
iRig Pro Duo is the smallest full-featured dual-channel audio/MIDI interface on the market. iRig Pro Duo delivers high-quality 24-bit audio on the go or in the studio with plug-and-play simplicity. It features 2 channels with XLR/TRS combo audio jacks and phantom power that can accommodate everything from high-end phantom powered condenser microphones to guitars, basses, keyboards and more. Each channel has it's own input gain control so you can dial in the perfect amount of input signal for your recording. With iRig Pro Duo, you don't just have a superb portable interface for audio; you can also hook up your favorite MIDI controllers. This is thanks to its included TRS to MIDI-DIN cables and dedicated MIDI in/out jacks, so you can control MIDI-compatible software (or send MIDI data to MIDI-compatible hardware, like synthesizers, drum machines and samplers) with plug and play simplicity.
2 x 1/4" / XLR guitar, mic & line inputs.
2 hi-quality preamps with gain control.
48V phantom power.
MIDI input/output.
2 balanced 1/4" out.
Direct monitor.
Lightning, USB and USB OTG cables included.
Self-powered (2 AA batteries), device powered or DC power adapter (not included).
iRig Mic Studio XLR
Large-diaphragm analog studio condenser microphone
iRig Mic Studio XLR is a large-diaphragm analog condenser microphone for vocal and instrument recording. It features 1" large-diaphragm condenser capsule, 20 Hz - 20 kHz frequency response and cardioid polar pattern. It also includes a mic clamp, a tripod tabletop stand and a 2m/6' XLR mic cable.
Read more about iRig Mic Studio XLR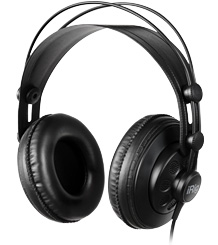 iRig Headphones
Professional closed-back studio monitor headphones
Closed back design for monitoring while recoding without mic bleed.
High output drivers for accurate, transparent and powerful sound.
Extended frequency response for rich bass and crisp highs.
Adjustable headband for great fit maximum comfort for extended listening periods.
---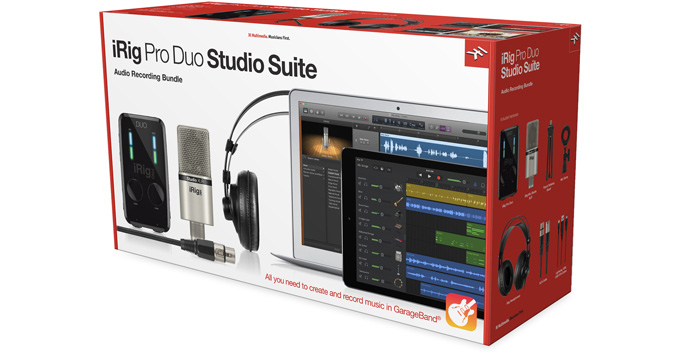 ---
Included Mac/PC Software for GarageBand and other recording applications
Guitar and Bass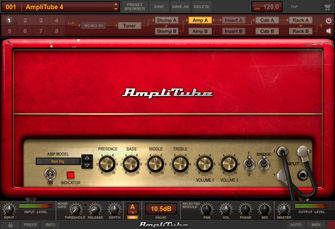 AmpliTube 4
Hyper realistic guitar amp and FX software
AmpliTube 4 is a guitar and bass tone studio for Mac/PC that works as a standalone application and as a plug-in for your favorite DAW. AmpliTube recreates the entire guitar/bass signal chain from instrument to recording device, and does so in a very realistic and intuitive way.
10 Stompbox Models.
9 Amplifiers.
10 Cabinets.
29 vintage and modern individual speaker models.
4 Microphones.
2 Rack Effects Units.
2 Tuners.
3D Cab Room with selectable room simulations, microphones, individual speakers and Dual Mic placement on any speaker.
8-track DAW/Recorder.
4-track Looper.
Expandable with official gear from MESA/Boogie®, Orange®, Ampeg®, Soldano®, Engl®, Seymour Duncan®, T-Rex® and more.
Vocal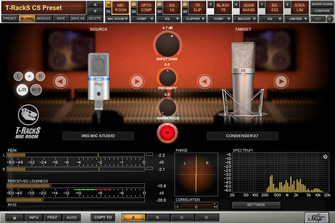 Mic Room
Microphone modeling processor for T-RackS
Mic Room is a microphone-modeling tool for T-RackS that puts a world-class collection of over 20 classic and contemporary microphones at your fingertips. It gives you the power to process and "re-mike" your physical microphones to sound and perform like some of the most coveted mic models of all time. With dynamic, condenser and ribbon microphone models to choose from (plus other unconventional and highly creative models), it offers an inspiring and essential array of tone sculpting tools that are conveniently ready for use as a T-RackS module in your DAW of choice.
Powerful and easy-to-use microphone modeling module for T-RackS
Comes with a collection of over 20 microphone models that includes dynamic, condenser, ribbon and other styles
Intuitive plug-and-play interface
Adjustable input level
Stereo control of left and right channels
Level meter
Master bypass switch
Proximity effect adjustment
Harmonic content adjustment effect
Mix and Mastering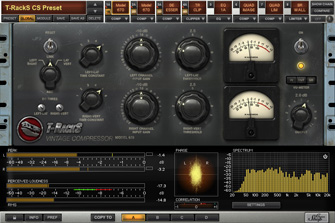 T-RackS Deluxe
High-end mixing & mastering collection
T-RackS Deluxe provides the tools you need to take your mixing to the next level. It features nine analog-modeled or digital processors and it instantly multiplies your studio's power, many times over. Not only are each of these processors amazing on their own, but you can open up to eight of them together within the T-RackS Custom Shop application. You can also open the T-RackS CS plug-in, which offers the same routing and flexible setups as the application, or open the modules individually as plug-ins. In addition to the 9 processors, you also get the T-RackS Metering suite, which features a variety of useful meters including peak and RMS, a spectrum analyzer and more. It can be opened inside the T-RackS plug-in or as an individual plug-in inside your DAW host.
9 audio processors.
Complete built-in metering section.
Configurable mixing/mastering chain with up to 12 parallel/series processors in 8 plug-in slots.
High-fidelity oversampling for high quality audio processing throughout the entire signal path.
All processors available as individual plug-ins.
64-bit native support.
32-bit 192 kHz support.
Standalone mastering station and DAW plug-in.
Read more about T-RackS Deluxe
Virtual Instruments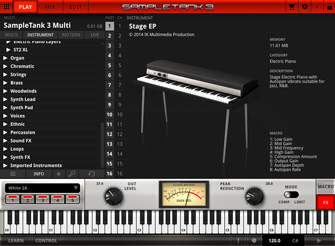 SampleTank 3 SE
The ultimate sound and groove workstation
SampleTank 3 SE gives you a taste of the 4,000 instruments available in the full version via 400 carefully selected, meticulously sampled instruments from 20 categories that stretch across every genre, style and type imaginable. With it, you get pianos, drums, basses, guitars, synthesizers, brass, strings, vocals and other more exotic sounds that all shine brightly and stand out in any mix with little-to-no adjustment required.
6.5 GB of included sounds.
400 new instruments with 20 instrument categories covering the entire span of acoustic, electric and electronic sounds.
Over 250 drum, percussion and full construction-kit loops played by world-renowned artists.
150 MIDI files in all categories.
SampleTank 3 Custom Shop: Browse, preview, download and purchase all your favorite IK gear seamlessly.
Supports user sample import as well as the use of legacy Powered-by-SampleTank libraries.
Standalone and 64-bit plug-in for Mac OS X and Windows.
Read more about SampleTank 3 SE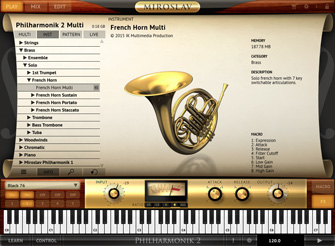 Miroslav Philharmonik 2 CE
The new orchestra with legendary soul
Miroslav Philharmonik 2 CE lets you enter a nearly infinite world of emotional symphonic sound. It includes a 10GB library with 733 instruments. These instruments let you easily access the most used articulations for your chosen instrument type on the fly. You can go from sustained to detache, staccato, legato, pizzicato or any number of other musical articulations without leaving the main instrument. Miroslav Philharmonik 2 CE comes with 34 of the best studio plug-in effects from IK Multimedia's acclaimed SampleTank 3 sound and groove workstation. You can control these on their own, or you can take advantage of each instrument's 8 macros that give you quick access to the most commonly used parameters for effortlessly simple sonic sculpting on the fly. It also comes with the ConvoRoom convolution reverb plus 4 professional-grade mastering processors from T-RackS.
Over 10GB of 16-bit / 44.1kHz samples.
Recorded and produced by jazz legend Miroslav Vitous.
Over 700 instruments that represent the full spectrum of Miroslav Philharmonik 2's emotionally expressive orchestral library.
Multiple articulations per instrument with articulation switching.
Comes with ConvoRoom convolution reverb with 3D GUI.
34 high-quality studio effects from SampleTank 3.
4 professional-grade mastering processors from T-RackS.
Multi-channel mixer-like Mix interface with 16 channels and 4 insert effects per channel, 4 stereo effect returns (with 5 insert effects each) and a master channel with 5 insert effects.
Access to the powerful instrument Edit page with 3 sample engines (including formant preserving pitch-shifting and time-stretching engines), 10 filter types and 8 macro controls per instrument for quick multi-parameter editing.
Based on SampleTank 3's powerful 64-bit engine.
Recorded at CNSO Studios in Prague.
Standalone and 64-bit plug-in for Mac OS X and Windows or add-on Instrument collection for SampleTank 3.
---
We Also Recommend
---